Out and About
American Encounters in Suffolk, 1942-1946
American Encounters in Suffolk
The British had increasingly mythologised the Suffolk countryside as a place of rustic beauty from at least the time of the native painter, John Constable. Americans, in many cases, came ready primed to appreciate the bucolic charm by an education system that covered the great English authors and painters. Getting off base in Suffolk brought contact with this 'imagined' world, but also with the locals and a multitude of opportunities for both shared experience and cultural misunderstandings arose.
The Bases
The economic impact of an American base on the local community was considerable. From opportunities for paid work in the Aeroclubs or with the Clerk of Works to less formal arrangements such as taking in laundry for the troops or trading local farm goods, all brought locals into regular contact with Americans.
There were also many regular social functions and parties on base to which locals could be invited. American hospitality was particularly popular in wartime Britain and local people welcomed invitations. Some of the celebrations of mission landmarks or anniversaries were huge events lasting several days in some instances.
'Had our Sq. Party, had friend chicken, ice cream on apple pie, cold beer and several odds and ends. I had better than a whole chicken myself & they were [a] good size. Plenty to eat!'
1st Lt. Roland W. Myers, 385th Bomb Group, March 12, 1945
'We killed the bottle of cognac in the office. I got the afternoon off. Dorothy and I celebrated this evening on the hill. Free beer for everyone.'
Sgt. Charlotte Ward (WAC), May 8, 1945 (VE Day)
Towns
Ipswich
Surrounded by numerous American bases, the county town of Ipswich was a constant draw to GIs on an evening pass or on leave. The many pubs, dances at the Co-operative Hall and St. Lawrence's Church Hall and five cinemas were a major attraction. According to the GI, Robert Arbib the most popular pubs were where the girls congregated – The Cricketers, the Great White Horse and the Mulberry Tree. 
'It was a dirty, smelly, crowded old town after dark, this Ipswich of the war. Little streams of urine ran down from doorways into the gutter, and in some doorways there were dark forms of a boy and a girl pressed together. The night air had a musty, old, stale smell; the smell of fried fish, of coal smoke, of horse manure and of fog, and the sea. It smelled of beer and rain and aged, mouldy stones.'
Robert Arbib, Here We Are Together (1946)
Ipswich drew so many Americans that it warranted its own Military Police Detachment, just off Duke Street (1192nd Military Police Company, Detachment F). The American Red Cross had its Service Club with 200 beds in Tavern Street run by Miss Kelly and Miss Nelson.
'You can see what fun we have trying to understand them. Sometimes you ask them to repeat a thing two or three times or you can catch on to what they are saying. All in all they are very nice. They are all swell eggs and they have all been through a lot… you have to figure out what they are saying. You go to the cinema to see the flicks then you might go to the pub to get some lager.'
S/Sgt E.L. Savaro 359th Fighter Squadron, 356th Fighter Group at Martlesham Heath, September 22, 1943
'Well I am having a little trouble. This English money has me running around in circles. Just like any other money though it is easy to spend in fact easier. You spend one pound and you figure I just spent one dollar. But one pound is equal to 4 dollars…They have coins equal to a half penny two pennies 5 cents 10 cents 20 cents 40 cents and 50 cents. Then they jump up to a two dollar bill. So you see what I mean when I say I am going around in circles don't you.'
S/Sgt E.L. Savaro 359th Fighter Squadron, 356th Fighter Group at Martlesham Heath, August 30, 1943
Bury St Edmunds
Like Ipswich, American bases surrounded Bury St. Edmunds on all sides and was a constant draw for GIs. It had two Red Cross Clubs, one of them on Southgate Street and one (officers only) on Westgate Street. The many pubs and three cinemas kept visitors entertained. The Corn Exchange ran almost nightly dances 7.30-10.30pm. There was even an Anglo-American Committee run by Mr Elton Halliley to facilitate contacts and good relations.
Newmarket - A Day at the Races
The famous horseracing town was another attraction to the Americans during their time in Suffolk. Robert Arbib described his visit to 'Derby Day' there as 'mass masochism' and Newmarket as the 'craziest racetrack I have ever seen,' and the 1943 Derby, 'the craziest race day of them all.'
Children in Wartime Suffolk
Wherever they went, the Americans were famously popular with children. The request 'got any gum chum?' often generated a positive response, but could also earn the reply 'got a sister mister?' In a strange country far from home, fighting a war and not much older than the British children themselves, the Americans often gravitated to the children they encountered. They organised elaborate parties, especially around Christmas, for local children and rarely was an opportunity missed to indulge them with sweets or gifts.
'People here are very friendly with you. They stop you on the street and ask you a ton of questions. All the kids stop you and ask you if you for Yankee gum and Yankee pennies. Cigarettes go like a house on fire. All you have to do if offer a cigarette and no matter if they just lit one of their own up they will take one.'
S/Sgt E.L. Savaro 359th Fighter Squadron, 356th Fighter Group at Martlesham Heath, September 22, 1943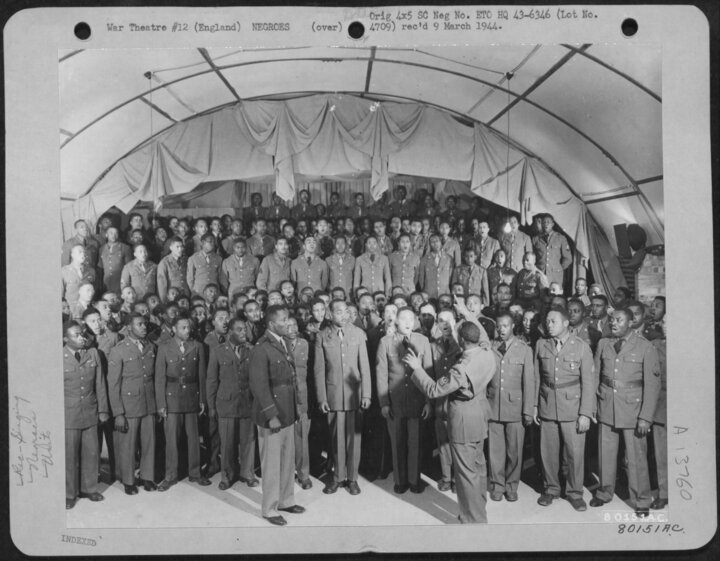 Women in Wartime Suffolk
Historians often use clichéd phrase 'overpaid, oversexed and over here' when describing the Americans in Britain during World War II. While they were certainly paid a good deal more than their British male counterparts (who were also conveniently overseas), this idea has been considerably challenged in recent years. Historians now talk of a sexual revolution initiated by the war that predates the American presence and point out that other Allied troops, such as the Canadians, were considerably more successful in forming relations with British women. The stories also serve to downplay how busy the women of Suffolk were with varied and vital war work.
Nevertheless, the sheer numbers of young American men stationed in Suffolk made it almost a certainty that relations of all types would form with local British women. Some would be temporary, others would last a lifetime. Fearing a rash of dependency claims, the American military was not keen on Anglo-American personal relations and in June 1942, the War Department actually prohibited marriages without permission of a commanding officer. This proved unsustainable the longer the Americans were in Britain and marriage numbers peaked in Spring 1945. The number of American marriages to Suffolk women is not currently known, but historian David Reynolds gives an upper figure of 40,000 for the whole country during the war.
Did you encounter the Americans in Suffolk? Why not share your story and images?
Share your story